Learning Resources on the Internet

Here are some useful links and other resources for improving your speaking, reading, and writing skills in English, as well as some useful downloads and a few things just for fun!
We have tried to check out these resources to be sure they are correct and helpful. Remember however, just because a site claims to be a help in learning English, it may still have mistakes.
Dictionaries
http://dictionaries.travlang.com/
http://babelfish.altavista.com/
ESL Sites
http://www.aitech.ac.jp/~ckelly
http://www.cln.org/subjects/esl_cur.html
Search Engines
http://owl.english.purdue.edu/internet/tools/searchtools.html
Writing Help
http://www.essortment.com/in/Hobbies.Writing/
http://esl.about.com/cs/writing/

Writing to the Point: Six Basic Steps By William J. Kerrigan
Books on Line
http://digital.library.upenn.edu/books/
Just for Fun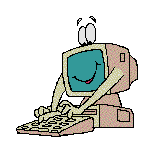 Computer Helps
Instant Messaging
Chat clients
http://www.paltalk.com/
Utilities
Antivirus Software
http://www.grisoft.com